Geraldine Yarworth
I've worked as a therapist for over forty years and, in that time, I've studied at some of the UK's leading schools and gained extensive knowledge of treating the human body. Now, I work intuitively, listening to what your body tells me and drawing on the specialist and complementary techniques I've learned to find the treatment that's right for you.

 

Used individually or blended together, these specialist therapies can help speed up the healing process and strengthen the immune system; eliminate toxins and boost energy levels; realign posture and reduce pain; relieve anxiety, headaches and depression.

You don't need to have a specific illness or problem to come for treatment. It's a great way of keeping your body balanced and helping it cope better with whatever life throws at you. Give me a call on 01452 303417 if you'd like more information.
I have been visiting Geraldine at Quayside Wellbeing for 6 years. All of her services are efficient and faultless, this added to the calmness of the surroundings and proximity to the water makes for a true oasis of calm.
My background
Originally, I trained as a beauty and massage therapist in London but soon realised I wanted to focus more on helping people. I went on to study aromatherapy at Champneys College and reflexology with the Bayly School of Reflexology.
I also spent time studying at the College of Healing in Malvern, trained as a counsellor with the Royal Forest of Dean College, learned spinal touch therapy at the College of Healing in Malvern and craniosacral therapy in Stroud. I taught adult education classes for many years and also acted as an examiner for the IFA aromatherapy board.
I see Geraldine for reflexology, aromatherapy and healing. It's always calm and relaxed and Geraldine has a deep spiritual energy she uses during therapies. I always look forward to my next appointment to recharge my batteries.
Aromatherapy 
There are enormous health benefits to aromatherapy. It can help reduce headaches, depression and anxiety and promote healthy sleep patterns. However, you don't need to be suffering from a specific health complaint to feel the benefits of it – essential oils have been used for thousands of years to strengthen immune systems and increase circulation, giving the body a much-needed boost.
I studied aromatherapy in London and became one of the first therapists to practice outside London.
I have been a client of Geraldine for nearly 30 years. Geraldine's clinic is homely and relaxing, you always feel welcome and at ease. She suggests good value products and would never let you spend unnecessarily.
Reflexology
From eliminating body toxins and boosting energy levels to relieving discomfort during menstruation and pregnancy, reflexology works through pressure points in the feet that correspond to other areas of the body.
During my training at the Bayly School of Reflexology, I was inspired by the way it can stimulate the body's natural healing process, relieve tension and anxiety, and reduce body toxins.
Despite living in Swindon, I have been visiting Geraldine for more than 20 years. She's helped me through emotional and physical trauma and has provided remedy for my long term back problem. I could not recommend her services more highly.
Spinal touch
Spinal touch is a gentle therapy that helps to realign your posture and ease distortion. It's particularly useful for people suffering with back, neck and shoulder injuries and can also be used to treat sciatica.
I studied spinal touch therapy at Malvern College of Healing and have used it for many years now to ease repetitive strain injury and whiplash symptoms in my clients.
After years of back and hip trouble, Geraldine had me able to run upstairs after just my first visit! She's tremendous!
Craniosacral therapy
This treatment involves light touches to stimulate the body's self-healing system. It improves the junctions of the nervous system and reduces pain to promote mobility. As well as aiding trauma recovery, it can also help reduce the symptoms of vertigo, tinnitus and constipation.
If you'd like more information on any of these therapies, give Geraldine a call on 01452 303417.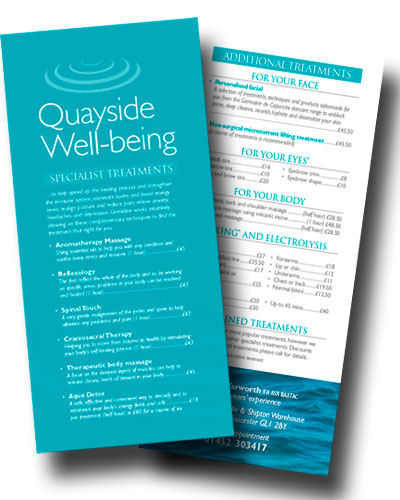 If you'd like more information on any of these therapies, give Geraldine a call on 01452 303417.
I've been going to Geraldine for over 20 years, lovely friendly atmosphere and what a fantastic service she provides.
Over the past 40 years I've been seeing Geraldine for waxing, massages and reflexology. She's polite, caring and respectful and has a great knowledge of treatments. I have no hesitation in recommending anyone to consult with her.
Eliminate toxins, boost energy levels, realign posture, reduce pain… Geraldine is here to help you.
Excellent have been visiting Geraldine for many years wouldn't go anywhere else lovely atmosphere very relaxing and Geraldine sure knows how to make you feel good. 10 out of 10 every time.
Amazing service and lovely atmosphere, will be returning! Highly recommended.
I can help relieve anxiety, headaches and depression, speed up the healing process and strengthen your immune system.
Went for a reflexology session for an ongoing problem. Was amazed by the result. Have continued to go regularly now as it was so relaxing and helpful.
I have been a regular customer of Geraldine's at Quayside Wellbeing for over 20 years and can highly recommend her for waxing, facials and aromatherapy massage.